Cleaning company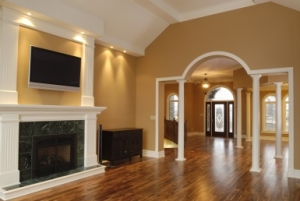 We are a cleaning company specializing in large household, commercial, and industrial cleanup in Montreal and Quebec. We offer a range of cleaning services « a la carte » as cleaning after renovation to remove dust, moving cleanup to move into an impeccable residence, or just spring cleaning, residential or commercial etc …
Professional cleaning company
If you miss time to do some sprucing it is time to call our company ! It is not necessary to do a thorough cleaning of the entire house to have recourse to our services, we also have professional cleaning teams and experts in cleaning for smaller specifics projects such as windows cleaning, carpet cleaning, washing walls only,  or for a duct cleaning.
Professional cleaning company in Montreal, Quebec
Thus, our cleaning company stands out from those of other cleaning companies with highly efficient specialized teams to clean, la carte or for a large full cleaning. We are actually more a clean up company. We do not conduct any weekly cleaning contract.
Professional cleaning
Choosing the right cleaning company
There are several advantages to choosing a professional cleaning company well managed with specialized teams for your spring cleaning: the work is done better, efficiently and at competitive rates. Each team works with equipment methods and effective products for the specific tasks they have to perform according to your cleaning contract. So you can trust our specialists for carpet cleaning, duct cleaning and more. You will have turn-key cleanup solution.
Cleaning Experts has been in business for over 25 years in the areas of Montreal, Quebec and about. Obviously we have liability insurance. By choosing to engage us, you choose the experience, reputation and peace of mind.
Household and professional cleaning
Our company offers the following professional cleaning services: general cleaning, wall washing, window cleaning, carpet cleaning, rug cleaning shop, cleaning sofas and mattresses, disinfection, cleaning after renovation, ventilation duct cleaning air, fast cleaning during removals service 7 days 7, restoration of joints contaminated ceramics, cleaning blinds ultra sound, pressure washing and exterior coatings.
We are experienced for heavy commercial cleaning and residential cleaning up as well.
Our services are available in the region of Montreal and Quebec City. Call us for a free estimate!
PROFESSIONAL CLEANING COMPANY MONTREAL, LAVAL, NORTH SHORE: STORIES
five-star-by-google
« Professional cleaning company in Montreal: Thank Cleaning Experts you are a super cleaning company. » Nathalie, Mont-Royal, Montreal
« Spring Cleaning in Ahuntsic: If you have dust call their professional team of the household, they are highly effective they did an impeccable job in one day. »